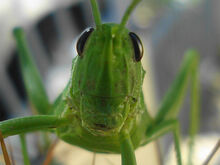 For other uses, please see Grasshopper (disambiguation).The grasshopper is an insect of the suborder Caelifera in the order Orthoptera. To distinguish it from bush crickets or katydids, it is sometimes referred to as the short-horned grasshopper. Species that change colour and behaviour at high population densities are called locusts.
Scientific Classification
Edit
Animalia

Arthropoda

Subphylum:

Edit

Hexapoda

Insecta

Orthoptera

SubOrder:

Edit

Caelifera Ander, 1939
SuperFamilies
Edit
Tridactyloidea
Tetrigoidea
Eumastacoidea
Pneumoroidea
Pyrgomorphoidea
Acridoidea
Tanaoceroidea
Trigonopterygoidea
Ad blocker interference detected!
Wikia is a free-to-use site that makes money from advertising. We have a modified experience for viewers using ad blockers

Wikia is not accessible if you've made further modifications. Remove the custom ad blocker rule(s) and the page will load as expected.