&nbsp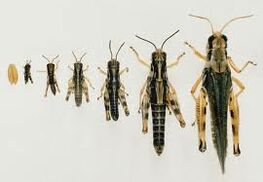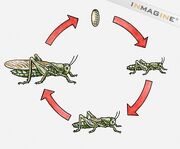 During reproduction, the male grasshopper introduces sperm into the vagina through its aedeagus (reproductive organ), and inserts its spermatophore, a package containing the sperm, into the females ovipositor.

The sperm enters the eggs through fine canals called micropyles.
In the summer, the female grasshopper lays the fertilized egg pod, using her ovipositor and abdomen to insert the eggs about one to two inches underground, although they can also be laid in plant roots or even manure and usually in their habitats. These are immediately incubated. She lays the eggs in a row and sprays them with a stick substance which forms a pod. Each 'pod' has 15 - 150 eggs inside it, depending on the species. The female grasshopper can lay up to 25 pods.
Metamorphosis
Edit
Grasshoppers undergo simple complete or incomplete metamorphosis that consists of 3 or 4 stages: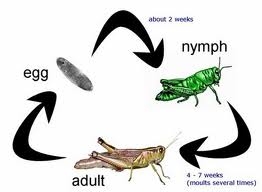 Egg
Larva
Pupa
Adult
Ad blocker interference detected!
Wikia is a free-to-use site that makes money from advertising. We have a modified experience for viewers using ad blockers

Wikia is not accessible if you've made further modifications. Remove the custom ad blocker rule(s) and the page will load as expected.